Show: I was lucky to host my very own import from Melbourne yesterday, in the form of my older brother; to spend the day in Sydney-town…
It was lovely to hang out, and enjoy a good time on a Tuesday … (Misfit Sarah, does this backdrop seem familiar?!)
Tell: Handmade earrings, Tatty Devine necklace, 'Her & Him Hato Group' shirt from op shop in Parramatta, Katies skirt from op shop, retail tights and socks, Fluevog shoes from Sole Devotion, Linda Jackson vintage bag.
On Saturday last weekend, we went to a dear friend's 40th birthday. Given the time of year, the theme was 'Día de Muertos' (Day of the Dead) and/or Mexican. The Hawaiian First Officer and I decided we wanted to go down the costume route of paying homage to great Mexico moments and/or people.
As I am sure you'll agree, the Hawaiian First Officer took the theme of celebrating the 1968 Mexico Olympics with gusto. This montage is an absolute *gif favourite* of mine! I'm thinking that gold medal was won for retro-dancing-boxing, yes?!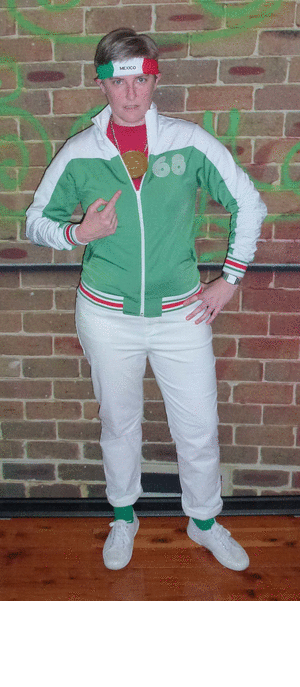 Now you best be a little warned about the next set of photos…
I went as 'Ugly Betty' because I think she's a gorgeous Mexican woman; she's cute; and, I always thought her fashion was fabulous from the get-go. The thing is, it turns out that if I put fake braces and teeth in, I look almost *nothing* like Ugly Betty and just closer to scary!  As my dear brother said when he saw these photos today, "Yeeesh. You look sort of dead." So not cute. But I still pay my homage to Betty; I realise my entire wardrobe is built for her; and, we had a great time!
Also, turns out – again, perhaps not that surprisingly – I'm a full-time smiler, so fake teeth are just really annoying after more than a minute. Did I mention I really like talking too, which makes a mouth-guard at a party *very* annoying!
Here's the Birthday Lady, Antonia (who is also on The Social Outfit's Board). Her glitter make-up was *wonderful* … And fake eyelashes on both top and bottom? Yes please!
This photo below is Friday evening last week, hanging out with friends…
Tell: Handmade earrings and necklace, Tatty Devine necklace, vintage Escada silk short, Estillo belt. The Social Studio silk dress gifted by Jo, retail tights, Happy Socks, Fluevog boots, vintage TV purse gifted by Kath.
And finally, here's me the Saturday the weekend before, when a friend asked to interview me about my love of Ken Done (he's studying film-making). And whenever I hear the words, "Ken Done" I naturally turn to some of my most favourite Australian vintage gear…
Tell: Vintage Ken Done glasses, vintage earrings from op shop, Tatty Devine lip necklace, Ken Done vintage shirt, Ken Done doona made into skirt, retail tights, vintage Ken Done socks, Fluevog shoes.
So that's me. I think I'm caught up now… And who knows, there just might be a post here soon with actually only one outfit. Regular blogging? It just might be possible! xo